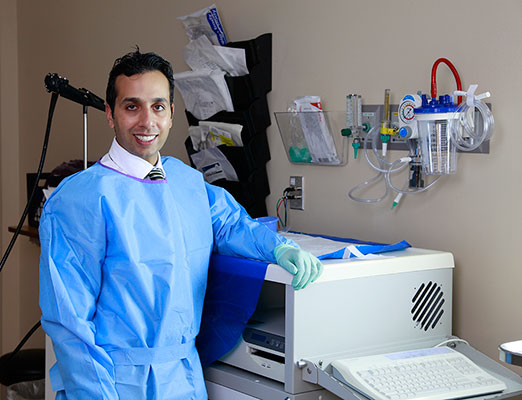 Dr. Masrour grew up in Dallas, TX, he attended the University of Texas, Dallas and received his degree in Biology. He then went on to earn his medical degree from Touro University, NV followed by Internal Medicine residency at Plaza Medical Center in Fort Worth, TX. He then completed his Gastroenterology fellowship at University of North Texas/Plaza Medical Center and John Peter Smith Hospital.
Dr. Masrour's training has been rigorous, having been involved with a large complex volume of cases, he has been able to achieve a very high level of competency. Furthermore, Dr. Masrour has also received extensive training in therapeutic endoscopy including ERCP and Endoscopic Ultrasound (EUS) and has a special interest in biliary and pancreatic disorders. Dr. Masrour has trained with some of the leading experts in the field, particularly with regard to ERCP and Endoscopic Ultrasound (EUS). He also enjoys providing care for other common gastrointestinal disorders such acid reflux in addition to performing routine colorectal cancer screening.
Dr. Masrour is a board certified physician along with being a member of the American College of Gastroenterology. In his leisure time he enjoys traveling and exercising.